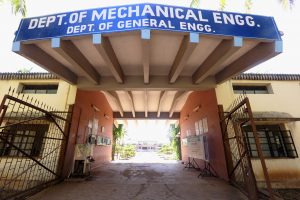 The Department of Mechanical Engineering was established in the year 1983. The graduate Program B.E. Mechanical was introduced in 1985. At present, the Department offers Graduate Program in Mechanical Engineering, Post Graduate Program in Design and Heat Power Engineering. Our Department holds a good reputation for producing eminent engineers as professionals, entrepreneurs and researchers. Many of our alumni occupy key positions in industries as well as in institutions across India and abroad.
VISION
To be a leading department for providing outstanding engineering education and facilitating research.
MISSION
To impart core technical knowledge and innovation practices to the aspirants, to enhance competencies for boosting the moral and ethical values.
To strengthen the facilities and conducive atmosphere in promoting quality education in multidisciplinary area.
Head of Department
Prof. Chandrashekhar G Harge
Designation: HOD & Associate
Professor
Mobile :9763598116
Year of Establishment
1983
UG Started
1985
PG Started
2003-2004
Contact
(0233) 2366246 Ext-301
Email
hod.mech@pvpitsangli.edu.in
UG Program
Mechanical Engineering (NBA Accredited)
Permanent Affiliation to Shivaji University, Kolhapur
Intake
First Year : 120 SeatsÂ
Direct Second Year : 120 Seats,
Lateral : Direct second year 24
Total Number of Classrooms
06
Total Number of Laboratories
18
Professors
01
Associate Professors
10
Assistant Professor
37
Total Faculty
48
Supporting Technical Staff
16
Supporting Non Technical Staff
06
Total Number of Licensed
Software
06
Total Number of Computers
90
Total Investment
Rs. 1,43,18,724.00
Total Hardware Investment
Rs. 1,27,60,124.00
Total Software Investment
Rs. 15,58,600.00
Total Department Area
1880.52sqm
Administrative Area
325.03sqm
Class Room Area
460.92sqm
Laboratory Area
1094.57sqm