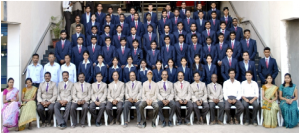 Padmabhooshan Vasantraodada Patil Institute of Technology, Budhgaon has been established
in the year September 1983. by late Shri. Padmabhooshan Vasantraodada Patil (Ex.
Chief Minister of Maharashtra State & Ex. Governor of Rajasthan state). The College
is located at Budhgaon about 10 km. from Sangli city. Our Vision is to become a
leading institute in providing high quality technical & engineering education to
the aspirants and serve the industry and society through excellent educational programmes,
creativity and research
---
VISION
To impart quality education in Civil Engineering to the students through excellent educational programme, creativity and research to serve the industry and society.
MISSION
To create conducive atmosphere for all concerned to deliver the best possible outcome.
To Motivate and facilitate the students for research and development.
Inculcate the ethical values among the students to be responsible citizens.
Year of Establishment
 1985
UG Started First Shift (120 Intake)
UG SE Direct 2nd Shift(60 Intake)
PG Started(18 Intake)
1985

2015

July 2011

Contact – Ph. no.
0233-2366246
Email
hodcivil@pvpitsangli.edu.in  ,  pvpitcivil@gmail.com
Under Graduate Program
Intake:120
Duration: 4 years
Intake  Second Shift:  60
Duration: 3 years
Total number of Classrooms
06
Total number of Laboratories
10+2(PG)
Professor's
 04
Associate professor's
11
Asst. Professor's
28
Total Faculty
43
Supporting Technical staff
05
Supporting Non Technical staff
02
Total Number of
Publication (in last 5 years)
97
Total Number of License Software
 05
Total Number of Computer
75+18(PG)
Total Investment
91,26,241=00
Total Hardware Investment
27,25,209
Total Software Investment
5,69,270
Total  Department Area
2355.61  SQM
Administrative Area 
Class Room Area
Laboratory Area
245.84 Sq.m
1035.43 Sq.m
1026.34 Sq.m
Programs
Under Graduate Programme :
B. E. (Civil Engineering)Duration: 4 years ,Intake: 120+60 (second shift)
Post graduate Program:  M.E. Civil Structures Duration: 2 years ,Intake: 18